Sam Oliver
(played by US actor Bret Harrison S1-2), the protagonist of the show, is a dropout and all-around slacker who, due to a deal that his parents made to save his father's life, is coerced into becoming a bounty hunter for the Devil after turning 21 years old. According to the terms of the contract, Sam would serve the Devil by using various tools, called vessels, to recapture souls who have escaped from Hell. After capturing an escaped soul with a vessel, he would then drop the vessel and soul at a portal to Hell, which was the local Department of Motor Vehicles in the show. Also, the Devil would grant Sam a unique power to aid in a particular soul's capture; the type of power ranged from telekinesis to a tattoo hinting the soul's location.
Sam, despite being an inherent quitter, surrendered to his fate as a bounty hunter for the Devil in an endeavor to prevent the escaped souls from endangering innocent lives. He enlists the help of his best friends Sock and Ben with capturing these escaped souls.
Sam's powers & abilities as a Reaper:
Sam discovered his demon sense that allowed him sense escaped souls was actually a superpower given to him by his father the Devil.
He also discovered his Super Temper Tantrum ability, and Whenever Sam gets mad he would get stronger. Also, if he gets frustrated all the glass around him would explode/shatter. He also gained Indestructibly in the episode "Underbelly," the Devil hints that Sam is invulnerable, and he learns that can stop an impact with hands. A washing machine falls on Sam, but raises his hands up and he stops the washing machine. The only thing that can kill Sam is his father the Devil, God, and possibly other higher beings such as angels.
Bert "Sock" Wysoki
( Played by US actor Tyler Labine S1-2). Sock spends most of his time sleeping in the stock shelves, planning his topless home supply store, and other time-wasting activities. He won the dog of the month award (the opposite of employee of the month) nine months in a row. He also regularly steals supplies from the Work Bench, both to aid Sam in capturing souls and for fun (like making a mechanical bull from paint mixers and lumber). Fortunately, he is braver and more athletic than his slacker personality suggests, and often provides the muscle of Sam's group. Sock assists Sam with collecting souls.
Benjamin "Ben" Gonzalez ( Played by US actor Rick Gonzalez S1-2). One of Sam's and Sock's co-workers and friends, Benjamin Casper Perez Gonzalez knows Sam is working for Satan and helps him out. He seems to have a tendency to get hurt when assisting Sam in capturing escaped souls (though this tendency diminished as the series progressed, partially because he doesn't go soul-hunting along with Sam as extensively as Sock does).
Andi Prendergast
( Played by Canadian actress Missy Peregrym S1-2). Andi Prendergast (played by Missy Peregrym in the series and Nikki Reed in the unaired pilot) is Sam's girlfriend and, for a time, manager. Initially unaware of Sam's Reaper duties, she is let down multiple times when Sam is called away from dates to capture souls. Chancing to see him on duty, Andi watches Sam behead an escaped soul from a distance, and initially threatens to go to the police. Sam is warned by the Devil to ensure she remains unaware of his activities, but eventually he receives permission to let her know what he does.
Josie Miller
( Played by US Actress Valarie Rea Miller S1). Josie is Sock's ex-girlfriend who works at the district attorney's office. Despite her obvious dislike for Sock, Josie remains friendly with Sam and agrees to provide information that helps him track down different souls, unaware of his work for the Devil. However, after Sock used a share of stolen bank loot to buy duplicates of all the stuff lost in a fire at her apartment (which he inadvertently caused), she begins to suspect that something isn't quite on the "up-and-up" with the boys, and is even more suspicious and upset when her lost I.D. is used to access the city morgue. Toward the end of season one, Josie got back together (and subsequently broke up again) with Sock, due to his insecurity and his apathetic nature. The character did not appear in the second season.
John Oliver ( Played by Scots born Canadian actor Andrew Airlie S1-2). Is Sam's father. Though equally distressed by his son's predicament as his wife, he, in effect, works against Sam for the protection of his family. In one episode, John is seen burning a page from the contract which binds Sam to the devil, to hide information from Sam (which he later admits to in the season finale).
Trivia: In the canonical (but yet unmade) season 3, it is revealed that John is in fact Sam's father. John was a demon who made a deal with the Devil to become human. Part of the deal was having his first-born son become a reaper. As a demon, he couldn't die, and therefore, became a zombie.

The Devil aka Jerry Belvedere
( Played by US actor Ray wise S1-2). Smooth-talking and debonair, known as "Jerry Belvedere" to those who have no idea of his true identity, the Devil (played by Ray Wise) claims the rights to Sam's soul thanks to a deal he made with Sam's parents before Sam was even born. Although he knows how it all ends ("God wins"), he is determined to do as much as he can to oppose God until the end. He also convinces Sam that he (Sam) is doing good by clearing the world of the escaped evil souls.
Ted Gallagher
(Played by Canadian Donovan Stinson S1-2).  Ted was the Work Bench's pompous, imperious manager (and recovering gambling addict) who gave his employees, especially Sam, Andi, Ben, and Sock, a hard time. In episode 20 ("Dirty Sexy Mongol") Ted was fired from his job as manager at the Work Bench after sexually harassing a secret shopper sent from corporate. Corporate appointed Andi as the new store manager. She took pity on Ted and rehired him as a trainee for the Work Bench with Sock as his trainer. When Andi is demoted in "My Brother's Reaper", Ted reclaims his spot as manager.
Last edited by Admin on Mon Jan 30, 2017 7:47 am; edited 3 times in total
Admin




Posts

: 228


Join date

: 2014-09-12


Age

: 45


Location

: Swansea, Wales/Cymru



Supporting Cast line-up:
Gladis
( Played by Canadian actress Christine Willies S1-2) is demon who works at a DMV office, which actually houses a portal to Hell. Gladys collects the filled vessels from Sam and sends them back to Hell. In "The Leak," when it was revealed that Gladys was the one repeatedly freeing home-wrecking soul Mike Volta from his vessel, the Devil "transferred" her to the "home office." She was later released at Sam's request. She seems to have a sexual interest in humans as well, making overtures to both Sock and Andi. Like all demons, she can project nightmares into human beings, nightmares so convincing that they believe they're real.
Nina
( played by US actress Jenny Wade S1-2) is a demon who tried to kill Sam, but her assassination attempt was thwarted by Ben. Enamored by his loyalty to his friend and love for his pet bunny, Nina kidnaps Ben and takes him to her lair. In "The Sweet Science", Nina is introduced to the group as Ben's girlfriend, but Ben remains concerned that Nina is not really interested in him and still trying to kill Sam. Nina reveals to Ben in "The Favorite" that she once had a physical relationship with a fellow demon named Brad. When Ben tries to break up with Nina in a restaurant, she cries tears of acid. She tells how, while she was still an angel, she once fell in love with a human. After her relationship with the human was discovered by God, her human lover died shortly thereafter, explaining her reluctance to get more involved with Ben. In "The Home Stretch", Ben shows his reluctance to introduce Nina to his grandma who has 'the eye' being able to see potential evil. Nina strikes up a pleasant conversation with her about St. Peter but is shocked into her demon form when scared by a barking dog, which sends Ben's grandma into cardiac arrest. Ben later breaks up with Nina at the Work Bench, and Nina declares a vendetta. However, at the end of "No Reaper left Behind" they get back together. Nina subsequently moves in with Ben. Ben's grandmother later threatens to disinherit Ben unless Nina undergoes an exorcism. The exorcism seemingly succeeds, but Nina is in fact unaffected. However, whether Ben's grandma will remain fooled since she has 'the eye' is not clear.
Tony in human form ( well nearly), and in Demon form. As with Stevie horns are a problem in civvy street, so beauty comes before the beast.
Tony
( played by US actor Ken Marino S1-2) is a demon. Tony was a leader of the anti-Devil rebellion, and was often plotting against the Devil. He helps Sam and his friends in their quest to capture escaped souls. As of the first season finale, his whereabouts are unknown. It is Tony who tells Sam that he is the son of the Devil. In the Second Season, he reappears and adopts the newborn daughter of an escaped soul, whom he names 'Stevie' after his deceased husband Steve.
Steve like with partner Tony both constantly have to grind their horns down to appear normal.
Steve
(played by US actor  Michael Ian Black S1-2) is also a demon. Prior to his death, Steve was an active part of the rebellion against the Devil. He chose the more passive path of rebellion over Tony's aggressive route, but still stood by him regardless. It is revealed in the first season finale that Steve is still "alive", and is now an angel (again). Subsequently, other demons follow 'The Way of Steve' in an attempt to emulate his path to Heaven. Steve appears to a human being to convince him to abandon the path to Hell. In "The Devil and Sam Oliver," he works as an unseen guardian angel to a klutzy Work Bench greeter. He appears to Sam and helps him translate symbols necessary to summon the Devil, but apparently misreads them. In the season two finale, when Sam appears ready to win a contest against the Devil, Steve breaks his hand and claims he's acting on orders from Heaven, and earns his wings as a full-fledged angel as a result.
Trivia: Steve in both Demon & Angel forms. Steve, a fallen angel like Tony, was killed by the devil in the rebellion but ascended to heaven in the finale of S1. He in S2 then acted as an intermediate to Sam and friends against the Devil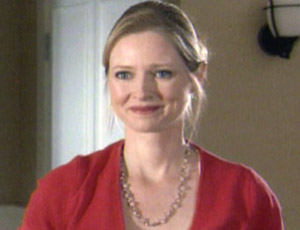 Linda Oliver
( played by Canadian actress Allison Hossack S1-2) is Sam's guilt-ridden mother. Initially led to believe that Sam refused to do the Devil's work, she now accepts her son's fate, and actively supports him in his everyday life. According to the Devil, her soul is on the line if Sam should decide to quit his "job" as a Reaper. At the end of episode 18 ("Cancun"), she is seen digging up the very much alive John, despite the fact that, when confronted by Sam about John's burial, she claimed to be unaware of both the burial site and the fact that John was still alive. In the second season she doesn't appear, and John admits she blames him for the entire situation and doesn't want anything more to do with him.
Kristen
(played by Japanese born US actress Eriko Tamura S2) is  Sock's new stepsister who adores Sock for being the older brother she's always wanted and wants to be involved in 'brother/sister' activities with him. These put no end to Sock's frustrations as he's extremely attracted to her and wishes to sleep with her. He eventually manipulates her that they should sleep together in "Underbelly", and as their new relationship began to develop, their parents return home. She leaves to return to Japan in "The Good Soil" after graduating with a degree in hotel management.
Morgan
( played by US actor Armie Hammer S2)  He is the son of The Devil, and Sam's (alleged) paternal half brother. He first appears in "The Favorite", where the Devil bails him out of jail using Sam's lottery winnings. He was arrested for stealing a limousine. He drives a silver Maserati, which was a gift from his ex. Morgan is very self-centered and lazy telling Sam that he has no qualms in fighting Sam to the death for The Devil's right hand seat and would wait for him to mess up to get his dad's favour. Since The Devil feels that Morgan is unmotivated, he orders Sam to take Morgan on a reap in the hopes that Sam's good work ethics rub off. While Morgan is and always has been the Devil's favourite of the 2 sons so far introduced (Sam and Morgan) he is growing increasingly unsure of the situation, because while Morgan behaves as the Devil would like, he has little to no desire to work. Sam, in contrast, though he regularly complains and defies the Devil, always "gets the job done." In "The Good Soil," he attempts to bribe Sam with money into capturing a soul and giving him the credit. He takes back his money after Sam turns in the dodgeball vessel with a corpse and later in the episode captures the soul himself with the vessel. In "The Home Stretch", The Devil challenges Sam and Morgan to a contest, in which whoever returned the soul back to Hell would become his right-hand man. When Sam accidentally wins the contest, The Devil takes everything from Morgan, and he swears revenge against Sam. In a rage, Morgan pulls a gun on Sam, but is killed by Nina and other surrounding demons, and sent straight to Hell. The Devil has stated that he is repeatedly crying out Sam's name whilst being tortured.
Admin




Posts

: 228


Join date

: 2014-09-12


Age

: 45


Location

: Swansea, Wales/Cymru



---
Permissions in this forum:
You
cannot
reply to topics in this forum