Tomorrow people had many cast members jaunted in and out of the classic series, here's a list of actors & actresses who appeared on our screens all those hazy years ago.

TIM: Voice of actor Philip Gilbert (1931-2004)
- A biological computer, programmed with an artificially created intelligence, whose tubes are filled with bio-fluid. He was partially built by John, the leader of the Tomorrow People, and was given to them by the Galactic Council. TIM is housed in The Lab, situated in a disused station in the London Underground. TIM often helps out the Tomorrow People by providing vital information which the telepaths can use in their current adventure. Tim's voice is identical to that of diplomat Timus Irnok Mosta from the Galactic Federation.
John: Played by actor Nicholas Young
- Aged 17, John is the leader of the Tomorrow People.He is an inventor and scientist. He built The Lab and the biological computer, TIM, with some help from the Galactic Council. John was the first Tomorrow Person to "break out" and had no guidance through the process.
Carol: Sammie Winmill)
- Along with John and Kenny, Carol had been monitoring Stephen, as he had been unconsciously tuning into their thoughts, via telepathy. When Stephen collapses and is taken to hospital, John sends Carol to help him "break out".
Kenny: Played by actor Stephen Salmon)
at 12, is the youngest of the original four Tomorrow People.[6] According to Carol, he "broke out" when he was very young. He is always left behind to look after The Lab.
Stephen Jameson: Played by actor Peter Vaughan-Clarke)
is the first Tomorrow Person to "break out" on screen.[6] At first he finds it hard to believe that he is a Tomorrow Person, but soon comes to accept this. Like other Tomorrow People, Stephen possesses various psychic abilities. The primary powers of all telepaths are "jaunting", the ability to instantaneously transport oneself from one place to another, telepathy, the ability to read the minds of other Tomorrow People and telekinesis, the ability to move objects with the power of the mind.
The Spidron: Played by actor John Woodnutt (1924-2006)
is an evil alien that resembles a large plant that comes to Earth to mine a rare mineral directly from the core, which would destroy the earth in the process.
Jedikiah: Played by two actors, Francis de Wolff  (1913-1984) and Roger Bizley )
is "a fierce, shape-changing alien robot,"[8] initially seen (in "The Slaves of Jedikiah") in the service of the "Cyclops" (later discovered to be 'Ranesh'), who uses Jedikiah to capture the Tomorrow People in an effort to use their psi powers to enable the Cyclops' damaged ship to return home. By the end of the serial, Jedikiah had been damaged and jettisoned into space. By the time he is recovered (in "The Medusa Strain"), 500 years had passed, and the damage caused to Jedikiah in the previous story, coupled with this long isolation, had driven the robot insane, possessing a pathological hatred of the Tomorrow People. He has since devoted his existence to their destruction.
Elizabeth M'Bondo: Played by actress Elisabeth Adare)
Student school teacher Elisabeth M'Bondo, and is uncovered by Stephen when working at his school.
Tyso Boswell: Played by actor Dean Lawrence)
- Is a Gypsy, who lives with his parents in a Gypsy caravan. Professor Cawston discovered that Tyso was telepathic after carrying out some tests on him, but he was kidnapped by Colonel Masters before the Tomorrow People could help him break-out.
Patricia Conway:  Played by actress Anne Curthoys
a telepath that worked for the British military. She has developed advanced mind reading abilities, able to read the minds of Saps, but did not break-out because her work for the military suppressed it.
Mike Bell: Played by actor Mike Holoway)
An East End kid, who lives in a block of flats with his mother and sister. He developed the ability of telekinesis before any of his other telepathic abilities, the Tomorrow People sensed this but did not try to contact him telepathically to try to reduce the pain of his breaking-out.
Pavla Vlasova: Played by actress Anulka Dziubinska)
is a Russian telepath conscripted to work for the KGB but has only developed the ability to read minds. She is able to read the thoughts of any person nearby, whether they are telepathic or not. The subject is not even aware that their mind has been read. This ability is more advanced than the Tomorrow People's mind reading ability.
Hsui Tai: Played by actress Misako Koba)
She was living as a Child God in the Temple of Shansu. As she was breaking-out she managed to contact Mike. The Tomorrow People rescued her just before she was being put to death so that she could be re-born into another child, thus joining the Tomorrow People.
Andrew Forbes: Played by actor Nigel Rhodes)
Andrew lives in his father's hotel near Loch Ness, Scotland. When Andrew started to break-out he found he had developed an ability to create illusions, so created illusions of ghosts and of the Loch Ness Monster in the hotel to entertain the guests.
Peter: Played by actor Richard Speight)
is telepath from the future. He is a Guardian of Time and the grandson of Zenon. He is very old (163 years), but looks like a teenager. We first see him after he has been captured by Rabowski so that he can operate Rabowski's Time Key. The Tomorrow People also meet him again in Roman Britain when he contacts them via a dream.
Zenon (played by actor steven Jack)
A Guardian of Time and the grandfather of Peter. He was in the Hall of Time when Stephen was captured by the Time Traps.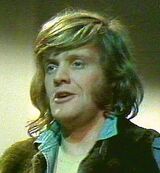 Ginger 'Ginge' Harding: Played by actor Michael Standing)
he along with his best friend Lefty worked for Jedikiah before learning the error of his ways before becoming friends with the Tomorrow People.
Lefty: Played by actor Derek Crewe)
employed by Jedikiah as one of his heavies along with friend Ginge.
Chris Harding: Played by actor Chris Chittle)
was introduced to us all as the younger brother of Ginge, and is shown to already have knowledge of The Tomorrow People.
Professor Cawston  (played by actor Bryan Stanyon)
is a leading researcher into psychic powers. Stephen contacts him as part of a ploy to obtain the Gladiator Vase that Peter used to contact the Tomorrow People in an attempt to find another telepath he starts testing school children to try to find someone with brain waves similar to Stephen. He finds Tyso just before he breaks-out. He is persuaded to work for Colonel Masters.
Admin




Posts

: 228


Join date

: 2014-09-12


Age

: 45


Location

: Swansea, Wales/Cymru



---
Permissions in this forum:
You
cannot
reply to topics in this forum